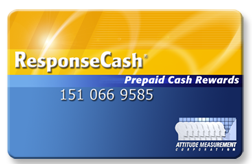 You must follow these instructions in order to receive your honorarium. Failure to do so may result in excessive bank fees that may reduce your honorarium.

PLEASE FOLLOW THESE INSTRUCTIONS FOR THIS RESPONSECASH® CARD AFTER COMPLETION OF A SURVEY
Your personal identification number (PIN) may have been provided in the information accompanying this card, or displayed on the last page of a survey you completed. If you have not yet received a PIN, please follow Instruction 2 below.
Please wait 24 hours, then call the 800 number listed on the back of your ResponseCash® Card to obtain a PIN (1-800-741-6060). (This is an automated phone system used solely to establish a PIN for you card. All other information provided by the phone system is not applicable to you.)
Go to any ATM that displays the Cirrus® logo and insert your card.
IMPORTANT: Press "WITHDRAW FROM CHECKING" and withdraw the entire amount of your cash reward.
Please note that a one-time withdrawal/use fee has been prepaid. If you attempt to access the funds in your ResponseCash® Card account before completing these instructions, or if you make repeated attempts to access your funds, your account may be charged additional withdrawal/use fees.

In the event that you have any problem with your ResponseCash® Card, please call the customer service number listed on the back of the ResponseCash® Card (1-866-534-6773).

ResponseCash® Cards become invalid 6 months after completion of the survey. Please be prompt in obtaining your honorarium.

Thank you again!
PLEASE PRINT THESE INSTRUCTIONS FOR REFERENCE.